WE WILL BE CLOSED 7/20/21 - 8/1/21, ORDERS WILL SHIP 8/2/21
Watch a Fendergrip® Demo by Capt. Peter Cook
Faster, Better, Stronger!

Push button speed plus the strength of your fender line.

Only the Fendergrip gives you instant push button fender height adjustment plus a positive lock.

Makes fender adjustments a breeze, yet installs in seconds to cleats, grab handles, and rails of any size or shape.

Uses your 3/8" to 1/2" line's strength to hold fenders of all sizes.

Made of rugged DuPont Delrin® and stainless steel hardware.

At home on any boat from a 13 foot Boston Whaler, to a 27 foot Sea Ray, to Million Dollar Yachts, and Megayachts. Also used by the U.S. Coast Guard, Marine Police Agencies, and Fireboats.

Stores fenders on rails or life-lines instead of in bulky fender racks. Also stores with fender.
Great Deal!

Suggested Retail Price $19.95

Save 20%

Only $15.95 Per Piece
• Due to the impact of Covid-19, most Fendergrip® product will be sent without the product packaging, but wrapped in bubble wrap. We apologize for any inconvenience.
• Not for use with Polypropylene Lines.
Beware of Fendergrip® knockoffs!
Don't be ripped off!
Why you don't want to buy the product below: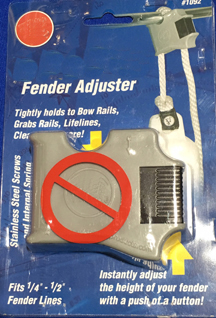 • Not the same time-tested design that has earned 4.8 out of 5.0 stars on Amazon.
• No Lifetime Warranty
• Does not lock on the fender line every time
• High effort push button requires 50% more effort than the Fendergrip.
• Cannot accommodate two finger operation - essential for ladies and children to use.
• Not made of DuPont Delrin
• No 800 phone support line
How can I tell a knockoff from the original?
• Only the Fendergrip is identified by our trademarked "Fendergrip" brand name and swirl logo.
• A Fendergrip is white not gray.
• The Fendergrip has a flat bottom, not curved.