Beware of Fendergrip® knockoffs!
Don't be ripped off!
Why you don't want to buy the product below: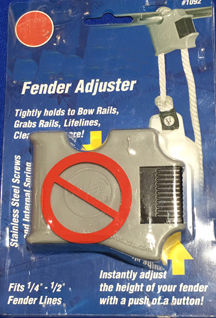 • Not the same time-tested design that has earned 4.8 out of 5.0 stars on Amazon.
• No Lifetime Warranty
• Does not lock on the fender line every time
• High effort push button requires 50% more effort than the Fendergrip.
• Cannot accommodate two finger operation - essential for ladies and children to use.
• Not made of DuPont Delrin
• No 800 phone support line
How can I tell a knockoff from the original?
• Only the Fendergrip is identified by our trademarked "Fendergrip" brand name and swirl logo.
• A Fendergrip is white not gray.
• The Fendergrip has a flat bottom, not curved.